You are here:
Home
→
Location
Conference location
The conference takes place in the small conference center of the Bavarian city of Garmisch-Partenkirchen south of Munich. The small conference center is located adjacent to the central pedestrian area of the city. It is at a walking distance (about 300m) of the train station and adjacent to the city's "Kurpark".



Foto: © Markt Garmisch-Partenkirchen

Garmisch-Partenkirchen Tourismus
Richard-Strauss-Platz 1a
82467 Garmisch-Partenkirchen, Germany
Phone +49-8821-180-700
email: guest services
Garmisch-Partenkirchen
Garmisch-Partenkirchen is a mid-size Bavarian city about halfway between Munich in Germany and Innsbruck in Austria. The conference location is in its suburb "Garmisch". The city is situated on the northern edge of the Alps below the "Zugspitze", the highest mountain in the German Alps (almost 3000m). Its traditional Bavarian flair, the beautiful surroundings, and the good travel connections make it one of the primary destinations not only for tourists but also for international conferences of all sizes. Garmisch has a charming pedestrian area with many restaurants and shops (http://www.garmischer-zentrum.de/) and is close to sightseeing opportunities.


In Winter, Garmisch provides possibilities for both, non-skiers and skiers. Non-skiers can enjoy the flair of the city and its surroundings while skiers find possibilities for cross-country and down-hill skiing.
Its primary ski resort Garmisch Classics offers everything you need for great skiing no matter what your ability from gentle runs for beginners and families, to challenging and heart pounding olympic runs such as the famous Kandahar run. The famous glacier resort on top of the Zugspitze can be reached through a 1 hour ride with the Zugspitzbahn (leaving at Garmisch's train station and suitable for both, skiers and non-skiers), one of the few cogweel trains still in operation or through a new cable car which brings people after a shorter ride from Garmisch with the Zugspitzbahn within 10 minutes from the valley to the top. For an overview on options see panorama
For a wealth of additional information about the location and the available services see Garmisch tourismus
How to reach
Garmisch-Partenkirchen is easily accessible by car, train or bus from Munich or Innsbruck (cities and airports).
- Travel by train or bus from/to Munich, Munich airport or Innsbruck
By bus
The Flixbus fast buses (Flixbus, www.flixbus.com/bus/germany) from Munich airport (about 2 hrs, every 2 hrs), Munich central bus station (about 1 hr, every 2 hrs), or Innsbruck (about 1 hr, every 2 hrs) which had been closed during the Corona period are again available.

By train
There are direct train connections from Munich central station (direction Innsbruck; every hour, about 1,5 hrs) or Innsbruck central station (direction Munich, every 2 hrs, about 1,5 hrs). Train connection from Munich airport to Garmisch (travel time about 2,5 hours) require a change of trains in Munich central station. More information on train connections at train booking site
By plane to Munich or Innsbruck
Munich's and Innsbruck's international airports are within easy reach through direct train connections via Munich or Innsbruck train station. For possible bus connections see above.

By car
From Munich (about 90 km, direction Innsbruck) A95 to the end, continued on B2. From Innsbruck (about 65 km, direction Munich) A12 and continued on B177 and B2.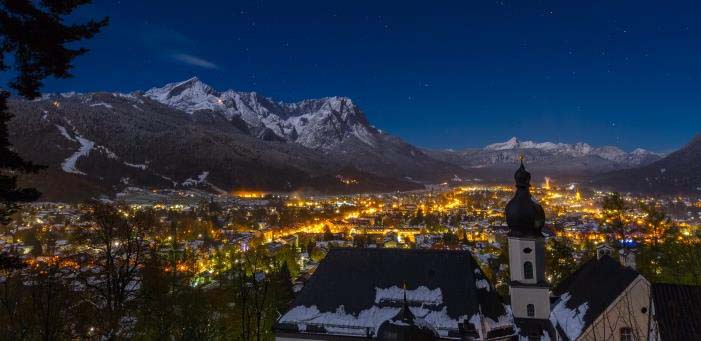 Foto: ©Markt Garmisch-Partenkirchen/ Marc Hohenleitner